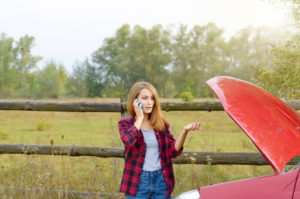 Summer is nearly here and many people are planning their yearly vacation. With so many cars hitting the road, keeping your car at its best can mean the difference between a safe trip or a disaster. Like winter time, this season can be especially difficult for all vehicles. How can you avoid finding yourself stranded in need of service? There are a few common issues people experience. By knowing these you can assess your car and prevent problems down the road.
Avoid These Common Summer Issues
#1 Flat Or Damaged Tires
With extreme temperatures and travel on the roads more common during the summer time, it is important to check your tires before you set out on any trip. Sharp objects on the road can puncture your tires and flat tires can leave you stranded. Always check your tire pressure before long journeys and note any large differences. Keep your spare tire ready just in case.
#2 Dead Battery
Just as winter can cause your battery to die, summer temperatures can lead to corrosion and evaporation of your battery's fluids, making your battery die. Make sure you turn off all your accessories when leaving your car and always test your battery when you can. Having a spare battery can help too!
#3 Worn or Failing Brakes
The first sign of wearing brakes is a high pitched squealing that happens when you come to a stop. Some wait until a grinding or metal on metal noise occurs to have their vehicle serviced. This may be too late. Having brake service completed as soon as possible and before any long trips is important for your safety.
#4 Coolant & Radiator
Keeping your engine cool during the summer time is very important. Internal combustion generates a large amount of heat. When your coolant and radiator fail to cool this down it can cause steam to burst from your engine as well as damage throughout your vehicle, rendering it inoperative. Make sure your coolant is always at a good level and have your radiator inspected frequently.
#5 Air Conditioner
As we said before, summer temperatures can soar to the extreme. Without a working air conditioner, you can put your family and yourself in a dangerous situation. Hot cars lead to heat  stroke and even death. Have your air conditioner serviced to ensure you and your family stay cool and safe this summer.
Do you need a tune up for your vehicle in Inglewood, CA? L.A. NTX Transmissions provide you with the best transmission and vehicle service for you! Call 310 672-8131 today!