Inglewood, CA Transmission Repair Fleet Accounts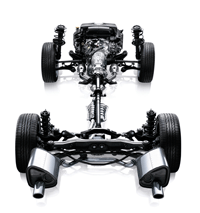 If you own a business with a large fleet of vehicles transmission service & repair in Inglewood, CA can become quite expensive. Fleet vehicles such as box trucks, taxis and industrial vehicles often require much more maintenance than regular vehicles because they are subject to much more wear and tear. Any business with a large fleet of vehicles relies on those vehicles every day to keep things rolling and if these vehicles break down or are operating at less than peak performance it can reduce productivity and even bring things to a screeching halt. Since Inglewood, CA transmission repair and service can be so expensive and time-consuming it makes sense for you to try to attempt to get any break for your vehicles that you can.
Here at L.A. NTX Transmissions, we offer our commercial clients the opportunity to apply for a fleet account. Depending on the size of your vehicle fleet and the type of vehicles you own having a fleet account could result in priority service for vehicles that need to get back on the road as soon as possible as well as significant savings for regular vehicle maintenance and repair. Fleet accounts are quite common at large transmission repair shops and here at L.A. NTX Transmissions, we use them to help provide our large commercial clients as much help as possible when it comes to maintaining their vehicle fleet.
Inglewood, CA's Best Transmission Service Fleet Accounts
Call or come in today to see about applying for one of our Inglewood, CA transmission repair fleet accounts. The main goal of a business is to make money and when you have a large fleet of vehicles automotive maintenance and repair can represent a sizable chunk of money. With a fleet account at L.A. NTX Transmissions, you could potentially save a great deal of money on maintenance and repair for the vehicles in your fleet. We also have some of the best mechanics in the business so every time you bring a vehicle in for transmission service or repair you can be confident in knowing that a true professional is conducting the work on your vehicle. Save money today with an Inglewood, CA transmission service fleet account offered by L.A. NTX Transmissions.