Culver City Transmission Rebuilds & Repair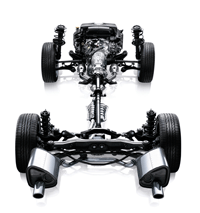 The professionals here at L.A. NTX Transmissions are ready and waiting to help you with all of your Culver City transmission repair and maintenance needs. From basic transmission maintenance to more complex services such as transmission repair, our mechanics can handle it all. We don't just employ mechanics with basic experience, we employ mechanics that have spent years gaining experience in a variety of different areas. Our mechanics can service a wide range of vehicles, including BMW, Saab, Volvo, Land Rover, Volkswagen, Fiat, Porsche, and Jaguar. We also have Culver City transmission maintenance professionals that specialize in providing service to fleet vehicles for various businesses in the area.
When you are looking for a transmission rebuild and repair shop in Culver City, it can be tempting to go with the shop that offers the best specials or has the newest facilities. However, making a decision based on such superficial factors could be costly in the long wrong. When choosing transmission repair and maintenance facility, it is recommended that you take the time to examine the reputation of each and every maintenance shop that you are considering, as well as the mechanics that they have on staff. Not all mechanics are created equal and that is why L.A. NTX Transmissions strives to find the best technicians available. Your satisfaction is our #1 priority.