Santa Monica Transmission Rebuild Service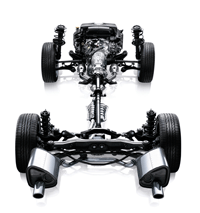 We understand that your vehicle is important to you and that is why we don't want you to settle for sub par transmission repair and maintenance in Santa Monica. With L.A. NTX Transmissions you don't have to pay superior prices to get superior service. We employ a wide variety of mechanics that have experience working on many of the most popular vehicles on the market and some that you may not see very often, such as BMW, Audi, Volvo, Mercedes, Volkswagen, Fiat, Porsche and Jaguar. With such a diverse array of knowledge and expertise it is safe to say that our mechanics can fix almost anything with two or more wheels. There may be other Santa Monica transmission rebuild & repair shops to choose from but none of them can compete with our level of service or the commitment that we have to the satisfaction of our clients.
Having a problem with your transmission can be stressful, especially if the problem is keeping your vehicle off the road. While many problems can be fixed by a vehicle owner with basic automotive knowledge, other problems such as transmission repair may require a more experienced touch. The last thing that you want is for an inexperienced or untrained mechanic performing Santa Monica transmission service or maintenance that is crucial to the operation of your vehicle. After all, when dealing with complex components like the transmission one wrong move can result in thousands of dollars in repairs. Here at L.A. NTX transmissions you will receive only the best Santa Monica transmission repair service available from our staff of highly trained technicians.