Gardena Transmission Rebuilds & Repair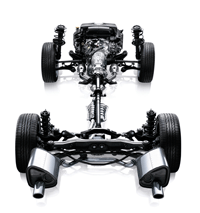 Aside from the dealership it can be difficult for most vehicle owners to find an transmission repair shop that employs mechanics that are specifically trained to service their vehicle. If you own a certain type of vehicle, such as a foreign luxury brand like Porsche, finding mechanics to service your vehicle may be nearly impossible. Fortunately, L.A. NTX Transmissions employs some of the best mechanics in the business and they are capable of providing Gardena transmission repair service for a variety of different makes and models. From BMW, Saab, Volvo and Land Rover to Volkswagen, Fiat, Porsche and Jaguar L.A. NTX can service them all! Call today to find out if we can service your vehicle, chances are that if you can drive it we can fix it.
If you need expert service for your vehicle L.A. NTX Transmissions is the transmission shop for you. We don't employ part time mechanics that have experience because they tinker around in their garage, each of our automotive technicians has years of experience servicing and repairing vehicles just like yours. There may be other transmission rebuild and repair shops in Gardena but none can match our level of service or our commitment to customers. While other Gardena transmission repair and maintenance shops charge outrageous prices for their towing service here at L.A. NTX and transmission we offer our clients free towing for any vehicle within a ten mile radius of our shop as long as it requires significant work. All of the transmission work we perform on your vehicle is also covered under our excellent 18 month / 18,000 mile warranty.
We have been a leading provider of transmission repair in Gardena and the surrounding area for the better part of two decades. During that time we have developed a reputation as one of the most trusted transmission repair shops around. When you have a problem with your vehicle and you need it fixed as soon as possible bring it in to L.A. NTX for the best transmission maintenance service in Gardena.