Inglewood, CA Differential Repair Service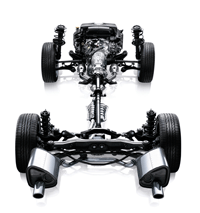 The differential drives a pair of wheels while allowing them to rotate at different speeds. When cornering, the inner wheel travels a shorter distance than the outer wheel, so with no differential, the result is the inner wheel spinning and/or the outer wheel dragging, which results in difficult and unpredictable handling, damage to tires and roads, and strain on (or possible failure of) the entire drivetrain. You don't have to be an expert on your car – just bring it to us at our Inglewood, CA transmission repair Shop!
Your differential needs lubricant changes too. When people think of fluid changes in their car or truck they pretty much only think of oil changes. But really all lubricants in your car need to be changed out from time to time. A lubricant is there to help prevent fiction. If differential lubricant breaks down then friction begins to occur at a more rapid pace and that's where major damage is done.
Driving with a faulty differential will not only make it incredibly difficult to handle your vehicle around turns, but it also makes driving incredibly dangerous, especially at high speeds. As you can imagine, this is not a problem that you should sit on for very long; as soon as you start experiencing problems with your vehicle, you should bring it in to L.A. NTX Transmissions. Our technicians will run a free computer diagnostic on your vehicle to help determine the source of your automotive problems, and in the case of a faulty differential they will do a thorough inspection of the tire, axle and drivetrain to help determine the exact source of your problem. If it turns out that you need Inglewood, CA differential repair or service, our expert mechanics can provide you with the help you need and will have you back on the road as soon as possible.
When you bring your vehicle in to L.A. NTX Transmissions for differential service or repair in Inglewood, CA not only will you receive superior service but you will also have the peace of mind that comes with knowing that any work we perform will be covered by our 18-month / 18,000 mile warranty. Your vehicle deserves the best and with L.A. NTX Transmissions that is exactly what you will get.