Inglewood, CA Clutch Repair and Service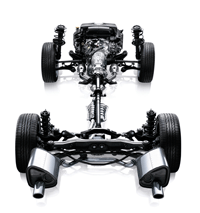 The clutch is the device that engages the power produced by your car's engine. The clutch disconnects the engine from the gear box when you change gears. It also allows the engine to idle. Needless to say, you need your car clutch working well to operate your car. Our Inglewood, CA transmission repair Shop is the best clutch repair shop in the area.
You don't have to be an expert to know when your clutch starts to have trouble. And you might think that if your vehicle has an automatic transmission you don't have to worry about a clutch failing. The fact is, all type of cars and trucks have clutches – but no matter what make or model you have, the mechanics at our Inglewood, CA transmission repair Shop can make clutch repairs and get you back to driving fast, without costing you a lot of money.
Over time your clutch will eventually wear down and begin to slip, thus preventing you from efficiently shifting gears while you drive. If you are experiencing problems with your clutch bring it in to L.A. NTX Transmissions today for the best clutch repair service in Inglewood, CA. A faulty clutch isn't really something that you want to drive around with and if your clutch is already slipping, increased activity will only make the problem worse until you are unable to shift at all. While clutch repair is something that you can technically do on your own, many vehicle owners lack the expertise and the resources to make such repairs on their own and when it comes to such important work if you are not 100% certain that you can do it yourself it is best to allow the professionals to do it. Here at L.A. NTX Transmissions, we have an army of mechanics that are ready and waiting to help with all of our Inglewood, CA clutch repair and maintenance needs!.
The Best Clutch Repair Service inInglewood, CA!
Like all of our other work, when you bring your vehicle in to our Inglewood, CA transmission repair shop for clutch repair and service any work we perform will be covered under our 18-month / 18,000 mile warranty. Depending on the estimated cost of repairs you may even be able to take advantage of our free towing service for all vehicles within a 10 miles radius of our shop.