Inglewood, CA Brake Service & Repair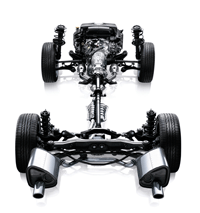 Brakes are an important aspect to any car or truck; they need to be serviced regularly in order to maintain proper safety standards for your vehicle. For the best deals anywhere around, trust our Inglewood, CA transmission repair Shop for your next brake service or replacement.
Brake pads are the part of the brake system that are designed to wear out after a certain time. Sometimes the rotors need to be turned if there's a vibration while the car is braking. One of our trained mechanics can tell if this needs to be done by visually inspecting the rotors. Usually, no rotor work is needed if the brake pads are changed when they reach their replacement point. So bring in your car or truck and get your brakes serviced today, you'll be glad you did.
There are a few types of vehicle maintenance procedures that should be performed no matter what, and replacing the brake pads is one of them. Because brake pads are typically unseen by the vehicle owner, they are often forgotten until they start to cause trouble. As brake pads wear down, exposed metal will begin to to rub up against the rotors, and this can cause a loud squeaking sound as well as permanent damage to the rotors if the pads are not replaced soon enough. If the brake pads aren't replaced in time, they will cause significant damage to the rotors, and those will have to be replaced as well. Replacing rotors is generally much more expensive than simply replacing brake pads, so it is recommended that you keep an eye on your brakes in order to save yourself money in the future. While we like performing brake service and repair in Inglewood, CA, we do not want our clients spending more money than is necessary.
If your brakes have been squealing when you stop or you are having other issues, bring your vehicle into L.A. NTX Transmissions for the best brake service & maintenance in Inglewood, CA. Our brake pad replacement service is second to none, and our mechanics can have you in and out of our transmission repair shop in no time. Call or come by today to see how we can help with all of your brake repair needs.