Inglewood, CA Axle & U-Joint Repair Service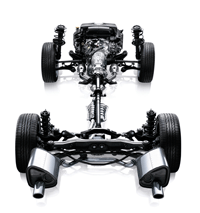 A car's axle is a shaft that transmits power (torque) to the wheels, as well as stabilizing them.
The axle is an integral part of the vehicle, and while it is a component that isn't typically associated with automotive service and maintenance, the axle is still subject to wear and tear and will eventually fail over time.
Axles – can be hub axles, stub axles or spindles. Car Axles provide stability, carry load, transmit torque and allow the wheel to spin around it. Don't wait until the last minute for axle repair in Inglewood, call L.A. NTX Transmissions today.
There are a variety of different things that can go wrong with an axle that will require Inglewood, CA axle service or repair, and unfortunately, most types of Inglewood axle repair and service require specialized equipment and trained technicians.
U-Joints are a type of coupling whose function is to transmit the drive from the transmission through at an angle. Our mechanics have years of experience repairing U-Joints in Inglewood, CA for a variety of different makes and models.
U-Joints are most often seen in rear wheel drive vehicles, where it is necessary to transfer the rotation of the engine to the wheels at the rear of the car. When a U-joint starts to fail, it will generally do so by creating a significant amount of noise and vibration to allow the vehicle's owner to bring it in for U-joint repair in Inglewood, CA before it fails completely. While U-joints are relatively easy for any decent home mechanic to replace, many vehicle owners still prefer to have a professional trained in Inglewood, CA U-joint service and repair to replace the joint for them.
The Best Axle & U-Joint Repair Service in Inglewood, CA
Whether you need Inglewood, CA axle or U-joint repair, L.A. NTX Transmissions is the place to go. Our mechanics have spent years replacing and repairing axles and U-joints on a variety of different vehicles and will have you back on the road in no time. Also, all of our work is covered by our 18-month / 18,000 mile warranty!