Inglewood, CA Four-Wheel Drive Systems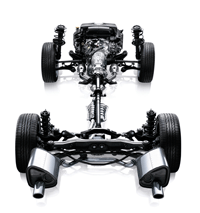 A vehicle with four-wheel drive (also know as all-wheel drive) is a vehicle that has a drivetrain which allows for all four wheels on the vehicle to receive power simultaneously. Most vehicles are two-wheel drive vehicles, and this means that power from the engine is only transmitted to two wheels on the vehicle – either the two in the front or the two in the back. A vehicle with four-wheel drive tends to be a bit more difficult to repair because the drivetrain is more complex. Because of this, it is recommended that all four-wheel drive system service and repair in Inglewood, CA be conducted by professionals that are trained specifically to service four-wheel drive systems.
Vehicles with four-wheel drive are typically associated with working or off-road vehicles because four-wheel drive provides more torque and power, but four-wheel drives also allows for better control and more precise handling on the roads as well. A four-wheel drive vehicle must also be allowed to rotate each tire at different speeds so that control can be maintained throughout a turn, and this requires that a series of differentials be used that will allow for the discrepancy in the rotation speed of individual tires. If your four wheel drive system begins to malfunction, it will most likely render the vehicle completely inoperable. In such a situation, getting back on the road is probably a top priority; it makes sense to bring your vehicle in to L.A. NTX Transmissions, where our mechanics have the experience necessary to quickly diagnose and repair your four-wheel drive system in Inglewood, CA.
The Best Four-Wheel Drive System Repair in Inglewood, CA!
If you have a four-wheel drive vehicle, you need to be able to take it to an Inglewood, CA transmission repair shop that is capable of providing you with Inglewood, CA four-wheel drive system service and repair. Our mechanics are some of the best in the business, so when it comes to four-wheel drive system repair L.A. NTX Transmissions should be your first and only choice. Call today to see how we can help you with all of your four-wheel drive system problems.