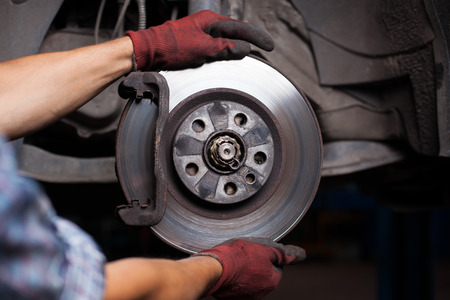 Staying safe on the road means having brakes that you can count on. Keep the brakes on your vehicle in good working order with regular maintenance for both the rotors and brake pads. Here are some things to check when looking over the brakes on your vehicle.
The rotors may not need a replacement every time the brake pads wear down. The best thing to do is check the condition of the rotors as the pads are being replaced. Running a finger across the rotor you'll be able to notice if the plate has become grooved. If not, the rotor does not need to be replaced. If a groove has begun to develop, it's a good idea to replace the rotor. Once a rotor becomes grooved, it can cause faster wear and tear on the brake pads. Sometimes, if the wear is minimal, rotors can be taken off and smoothed down instead of replaced.
The brake pads should be replaced every so often because they eventually wear down with use. A small piece of metal built into the pad with reach the rotor as the brake pad becomes thin. Once the strip of metal touches the rotor it will emit a squealing sound, making it apparent to the driver that the brake pads will need to be replaced soon.
Do you need vehicle maintenance in Inglewood, CA? Come by LA NTX Transmissions today! Whether you need the brakes maintained or the transmission repaired, we can get your vehicle back in top shape again.
Call us today at 310 672-8131 for more information about our automotive services.